Car & Van Hire in Manchester
Welcome to the Enterprise Manchester car rental page. Choose from a wide selection of cars ranging from smaller economy cars to larger SUVs and people carriers
Why Hire with Enterprise?
Recommended Provider - Recommended Provider with Which.co.uk

Free pick up - We'll drop you off too
Modern Fleet - Latest models
Excellent Customer Service
Free Cancellation - Free outside of 7 days of pick-up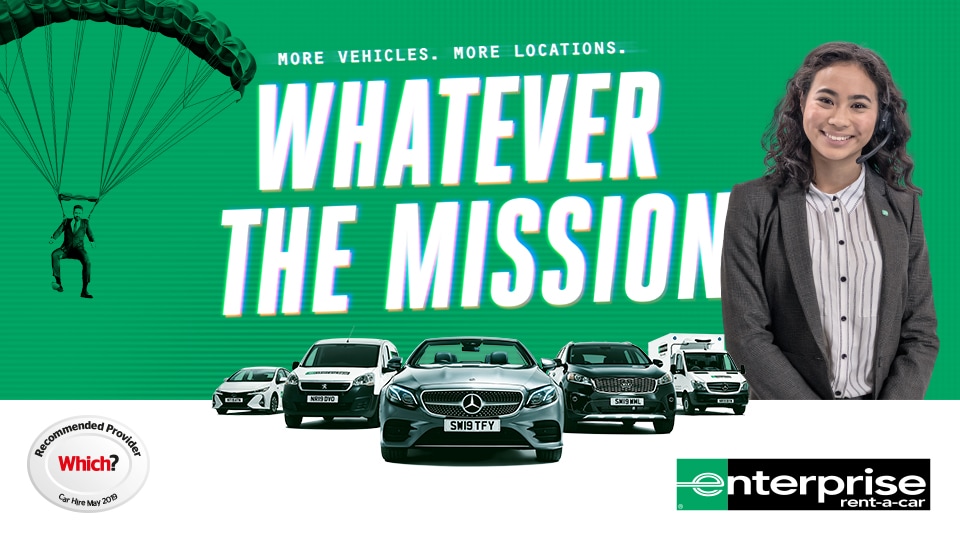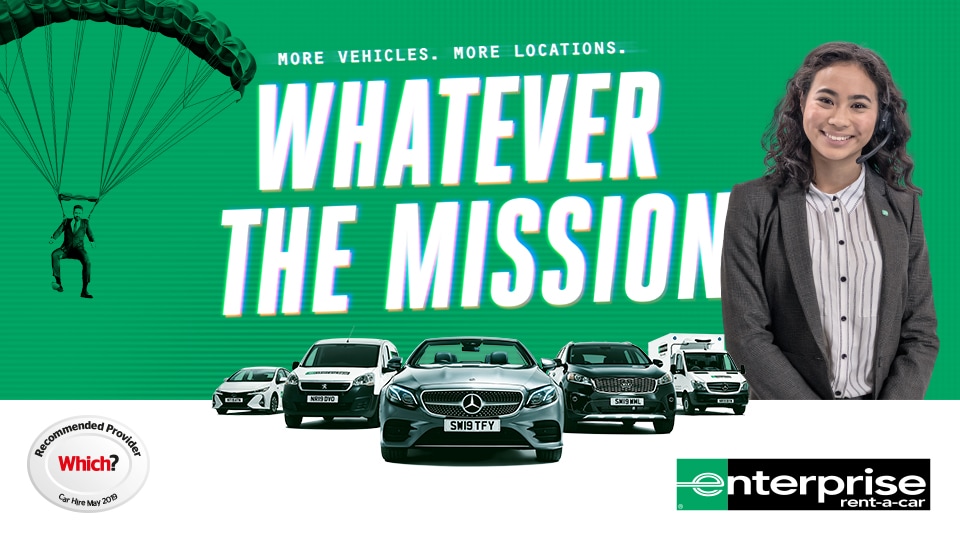 Car Hire in Manchester with Enterprise
Manchester is a fantastic destination for a city break, but it is also close to some of England's most scenic driving routes. Whether you'd like to cruise through the rolling hills of the Pennines and visit the Bowes Museum, or you'd prefer an unforgettable family day out at Knowsley Safari Park, we have the vehicle to get you there. Hire the best car rental for your needs from one of our 14 Enterprise branches across Manchester, including Manchester Airport and Piccadilly Station. The process is quick and easy so why not start by getting a quote above? 
Wide Range of Rental Cars
You can choose from a large variety of vehicle types with Enterprise. Tour the sights of Greater Manchester with a fully bespoke and personalised rental package. If you're looking to conquer the terrain of the Lake District then you can rent a 4x4 with us. We also have people carriers to hire for those venturing around Manchester as a family. For a more refined driving experience, our luxury car hire option includes a range of makes and models to choose from.
Not only do we offer an extensive choice, we also maintain all our vehicles to the highest standards whilst the vehicles themselves are clean ultra-low emission models. This helps to minimise your expenses with savings on fuel consumption and congestion charge exemptions. Whether your preference is for manual transmission over automatic, petrol or diesel, we can accommodate your vehicle requirements. We also offer additional features at your request, including GPS navigation and child booster seats, depending on your requirements. 
Do You Need a Van Rental in Manchester?
If you require a vehicle for moving heavy-duty items around Manchester, then why not manage the job with a van? Whether you've just bought a new sofa, or you're refurbishing a whole house, you can keep your costs down with an affordable Enterprise van hire. Our extensive fleet offers you the choice of anything from short wheelbase vans, right the way up to a long wheelbase Luton. Just like our cars, Enterprise vans are very carefully maintained and extremely reliable. Simply begin your van reservation at the top of the page or head to our van fleet page to see more.
Cheap Van and Car Hire in Manchester
With 20 million satisfied customers each year, you can be sure to find a great value rental deal with Enterprise. You will find the cheapest car hire deals on the Enterprise website - simply use our online PrePay service to find the best rates. Alternatively, you can pay at the collection point at your convenience. We also offer amazing weekend deals, so why not book a city break in Manchester? As we're a Which? Recommended Provider, you can count on us to provide accurate quotes with no hidden costs.
Car Hire Manchester Airport
If you're flying into the city via Manchester Airport, or coming into the neighbouring John Lennon Airport by Liverpool, get to your final destination in style and comfort with a vehicle hire from Enterprise Rent-A-Car. For those landing at Manchester Airport, there is a shuttle service available from 5am to midnight that can take you from each terminal (1, 2 and 3) to the car rental village. With lots of Enterprise staff on hand, you can expect to be on the road with minimal delays.
Need to drop off in a different location?
One Way Car Hire
Looking to hire a car for a one-way trip? No problem! Enterprise Rent-A-Car offers easy and convenient one-way car rentals from most of its 10,000 locations in 90+ countries. Choose from a great selection of vehicles, including economy, saloons, SUVs, people carriers and vans.
Need help picking up and returning car?
Free Pick Up and Drop Off Service
Our free pick-up & drop-off service is available at non-airport branches and during normal business hours. To schedule your pick-up time or make additional arrangements, ask for this when your rental branch calls to confirm your reservation.
Need a car for an extended time?
Long Term Car Hire Service
Looking for a flexible alternative to a traditional rental or lease agreement? If so, we've got a programme for you — it's our Month-or-More℠ Plan. We've set up dedicated long-term branches throughout UK to provide our customers one-on-one attention. Just let us know when and where you need to rent a vehicle, and we'll take care of the rest.
Things to do in Manchester
Located in England's heartland, Manchester is a diverse and lively city that comes alive at night with a seemingly endless list of things to do and see, while its surrounding landscape offers an abundance of natural beauty.
A day out in the city of Manchester:
Home to two of world football's biggest clubs, there can be no better place to start your day out than with the Manchester United Museum & Stadium tour. Following this, just a 15-minute drive away, is the Trafford Quays leisure village where you can delve into the exciting activities offered, such as indoor skydiving and skiing, a large children's amusement centre and adventure golf.
Plan a road trip through the nearby nature reserves:
For visitors hoping to venture off the beaten path and enjoy Greater Manchester's outstanding natural beauty then look no further than a drive into the Pennines. Kick-start the day's excursion in the city centre by hiring an Enterprise vehicle at our Manchester city centre branch. Then, just a short drive down the road is Chetham's Library. This historic building dates back to 1653 and is the oldest public library in the UK. Just a 20-minute drive further out there's the Ordsall Hall; the gorgeous Grade I listed Tudor building dates back to 1177. It is rumoured to be where Guy Fawkes hatched the plan for the gunpowder plot and is supposedly haunted. From here, it's just under an hour's drive before you're immersed in the Pennines and its array of luscious green hills and narrow valleys.
---
Driving Information in Manchester
When driving around Greater Manchester and the surrounding countryside there are a few important things to note:
The A56, and particularly Bury New Road, to the north of the city is one to avoid during peak times, along with the A6 and particularly Buxton Road.
If you are planning a road trip of the UK's northern cities then Manchester is very well connected. The most common route to take from Manchester to Leeds is via the M62, whilst you're also likely take the M62 southbound when travelling to Liverpool. It is worth checking for live traffic updates before you set off to ensure you take the quickest route.
Ensure to have some spare change to hand in the event that your journey takes you along the M6. If you're travelling in a normal car then you can expect some charges.
Manchester's roads follow the same speed restrictions as the rest of the UK, unless specified otherwise, so stick to 70mph on motorways and dual carriageways, 60mph on selected carriageways and 30mph in residential roads that aren't signposted as 20mph.
If you do venture out into the Pennines or further into the Lake District national park then it's vital to be aware of the danger posed by wild deer and sheep. Drive sensibly and be on the lookout for any wild animals crossing roads or around tight bends.
In the event of an emergency, the number to contact is 999 where the operator will be able to connect you with the appropriate emergency service.
Frequently Asked Questions
For more FAQs, please visit our FAQ page.