Car & Van Hire in Edinburgh
Welcome to the Enterprise Edinburgh car rental page. Choose from a wide selection of cars ranging from smaller economy cars to larger SUVs and people carriers
Why Hire with Enterprise?
Recommended Provider - Recommended Provider with Which.co.uk

Free pick up - We'll drop you off too
Modern Fleet - Latest models
Excellent Customer Service
Free Cancellation - Free outside of 7 days of pick-up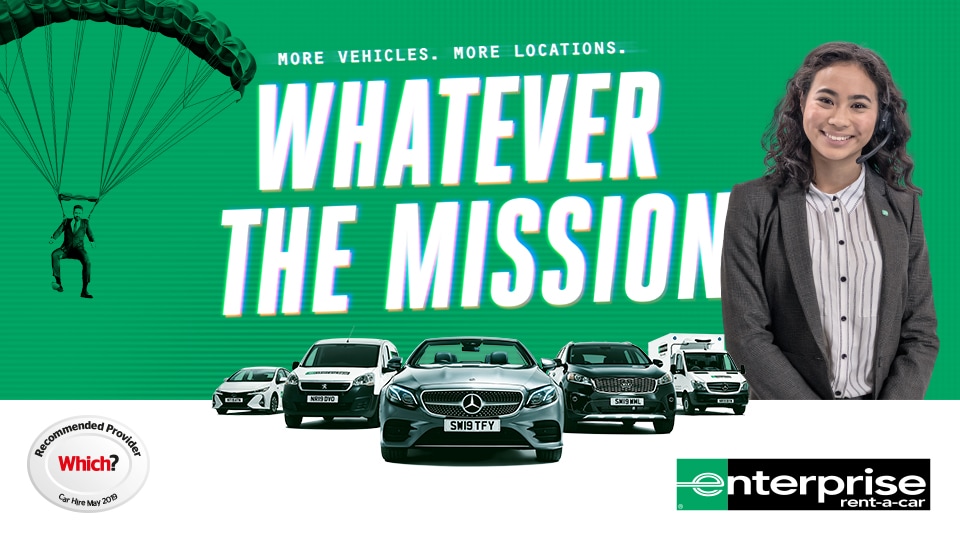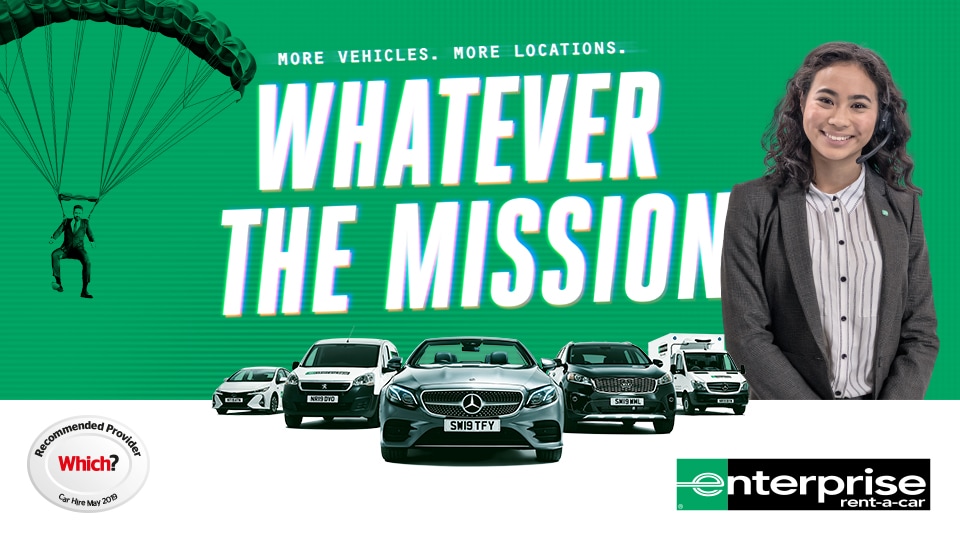 Car Hire in Edinburgh with Enterprise
The capital of Scotland is a fascinating city, filled with majestic history, charming narrow passageways and cobbled pavements. Edinburgh's beauty will draw you in to explore every inch of the Old Town, but venturing outside of the city's boundaries is always a pleasure. Take an Enterprise rental down the scenic Lothian coast, or cross the Queensferry Bridge to the Lomond Hills and witness the breath-taking vistas Scotland has to offer.
When you fly into Edinburgh Airport, you can find us in the car rental village which is a short walk away from the terminal. If you arrive to Edinburgh by train, get your rental from our Waverley Train Station branch to carry on with your planned journey. If you simply need a car when you are in the city, we have five branches in Edinburgh – find us by the port of Leith and close to the city Bypass in Sighthill to name a few.
Wide Range of Rental Cars
No matter what you are expecting from a rental car during your trip, our fleet will accommodate your needs. If you are planning a big group holiday and need easy to book nine seater car hire – we can make that happen. If you want to tackle some of the rougher terrain across one of the Scottish national parks, we suggest a sturdy 4x4 for hire. Get a quote above or visit one of our Edinburgh branches to find your perfect rental car.
Our fleet has the latest car models and are well maintained, meaning you can enjoy the comfort and driving assists expected of modern vehicles. If you prefer the smooth city-driving experience of a diesel, cost-effectiveness of a hybrid petrol car, or you find it easier to drive an automatic, we will find you the ideal match - whatever your preference in cars.
We also offer add-ons if you require specific assists or kit for the car. We offer satnav units, child seats and boosters, and allow for additional drivers on our rentals for a small extra payment. Discover what cars are available to you during your stay in Edinburgh on our fleet page.
Van Hire in Edinburgh
If you need cargo space, we offer competitive van rentals in Edinburgh too. If you are planning a house move, shifting office supplies or require space for your camping equipment, an Enterprise van rental is the best way to go. Our vans come in all shapes and sizes: from short wheelbase vans all the way to long wheelbase Luton vans. If you need a large vehicle, but still want award-winning customer service and great prices, get a quote on a van rental above or visit our van fleet page to see what we offer in Edinburgh.
Cheap Car Hire in Edinburgh
When you rent a car with us, not only will you get great value for your money, but you will also receive award-winning customer service. We pride ourselves on being a Which? Recommended Provider. Our pricing is clearly explained for your convenience and any extra charges are transparent to ensure your final rental price makes sense to you. All of our cars are priced competitively to provide you cheap car hire in Edinburgh. Visit our website to find the cheapest rates on your rental using our prepay option.
If you opt-in to our Enterprise Plus rewards program, you can get redeemable points when you book and swap them for free rentals with us. Get a quote on your rental above and join the 20 million happy customers that hire with us every year. 
Car Hire Edinburgh Airport
When you arrive at Edinburgh Airport you can find us in the car rental village, which is just a three minute walk away from the terminal via a covered walkway, with helpful staff there every day of the week. Some flights can be outside of the listed business hours, so we offer a flexible After Hours Service for your convenience. All you have to do is return the vehicle to a parking spot designated by our agents and leave the keys in a drop box our staff will point out to you.
Need to drop off in a different location?
One Way Car Hire
Looking to hire a car for a one-way trip? No problem! Enterprise Rent-A-Car offers easy and convenient one-way car rentals from most of its 10,000 locations in 90+ countries. Choose from a great selection of vehicles, including economy, saloons, SUVs, people carriers and vans.
Need help picking up and returning car?
Free Pick Up and Drop Off Service
Our free pick-up & drop-off service is available at non-airport branches and during normal business hours. To schedule your pick-up time or make additional arrangements, ask for this when your rental branch calls to confirm your reservation.
Need a car for an extended time?
Long Term Car Hire Service
Looking for a flexible alternative to a traditional rental or lease agreement? If so, we've got a programme for you — it's our Month-or-More℠ Plan. We've set up dedicated long-term branches throughout UK to provide our customers one-on-one attention. Just let us know when and where you need to rent a vehicle, and we'll take care of the rest.
Things to Do in Edinburgh
Look over the city in King Arthur's seat
Edinburgh is the perfect city to get lost in. The Scottish capital is willed with cobbled alleyways, historical architecture spanning centuries and beautiful parks overlooking the city. There's other types of entertainment you can expect from a bustling city, like the Edinburgh Zoo. The capital's Edinburgh Castle is a tourist favourite, where you can witness the One O'Clock Gun being fired to signal the hour. From there, you can take a stroll down the Royal Mile to the eclectic Old Town to experience the heart of Edinburgh. If you are into science, why not visit Dynamic Earth in Holyrood for an interactive lesson about the Big Bang. You can hike in the nearby Holyrood Park to escape hustle and bustle and see the city from Arthur's Seat - a place where King Arthur once admired the beauty of his kingdom according to legend.
Explore the nearby Scottish wilderness

By renting a car, you can also plan day trips to visit the surrounding Scottish wilderness and highlands. A great place close to Edinburgh is the uninhabited Cramon Island, accessed by a path only exposed during low tide. It's on the way to Queensferry Bridge – a beautiful crossing that is also the way to beautiful Lomond Hills Regional Park. You can venture further north to the Cairngorms national Park in the Scottish Highlands and conquer the peak of Ben Macdui to witness the unforgettable landscape.
See the world's only rotating boat lift
If you want to witness history, you can travel on the M9 towards Stirling where you can visit the towering middle age Stirling Castle – once the childhood home of Mary Queen of Scots. When returning towards Edinburgh, you could stop off at Falkirk to see the Kelpies. It's the biggest equestrian monument in the world, dedicated to all the hard-working horses throughout ages. You can also see The Falkirk Wheel, a one-of-a-kind rotating boat lift connecting the Forth & Clyde Canal to the Union Canal.
Driving Tips for Edinburgh
When driving around Edinburgh and the surrounding area, there a few key things to remember:
Edinburgh is a very bicycle-friendly city, so be aware of cyclists when making turns on junctions and pulling over.
Unless specified, the speed limits in Edinburgh are the standard UK Highway Code limits. 30mph for residential areas with certain zones signposted 20mph, 60mph for A and B single carriageways, and 70mph on dual carriageways and motorways. Certain roads in the city are signposted as 40mph.
There are no toll roads in the city or Scotland in general, so you don't have to worry on bridges or motorways.
As the beautiful countryside is home to farm and wild animals, anticipate and lower speed when in wooded areas where deer warning signs are visible.
Some of the Scottish country roads are too narrow for two vehicles, so anticipate oncoming traffic on bends and where visibility is obstructed. Use safe passing places where possible and reduce speed accordingly
If you drive in the winter months, prepare accordingly. Temperatures in Edinburgh can reach low into negative Celsius. Extra caution on roads might be necessary during snow storms, when reducing speed and using fog lights is advised.
To contact authorities in the event of an emergency, dial 999.
Frequently Asked Questions
For more FAQs, please visit our FAQ page.