Car & Van Hire in Cardiff
Welcome to the Enterprise Carfiff car rental page. Choose from a wide selection of cars ranging from smaller economy cars to larger SUVs and people carriers
Why Hire with Enterprise?
Recommended Provider - Recommended Provider with Which.co.uk

Free pick up - We'll drop you off too
Modern Fleet - Latest models
Excellent Customer Service
Free Cancellation - Free outside of 7 days of pick-up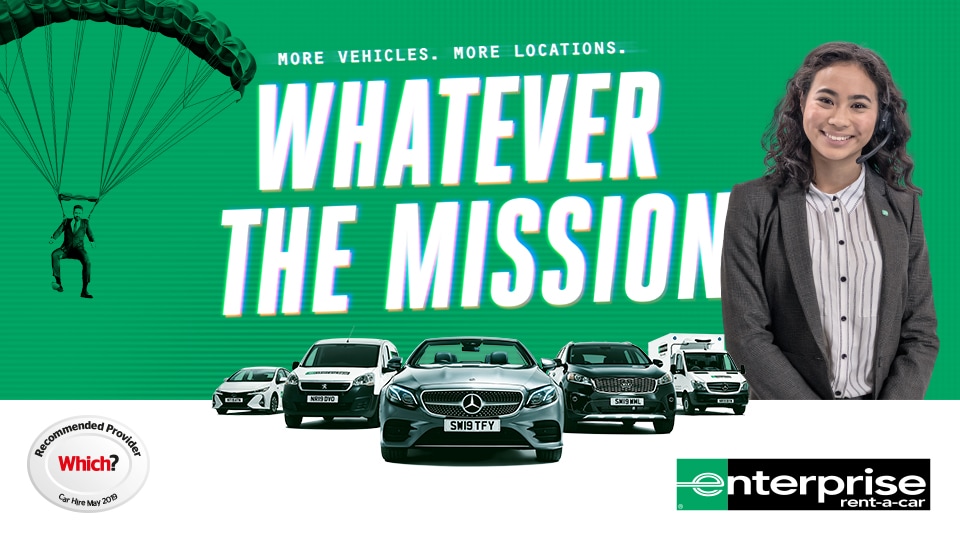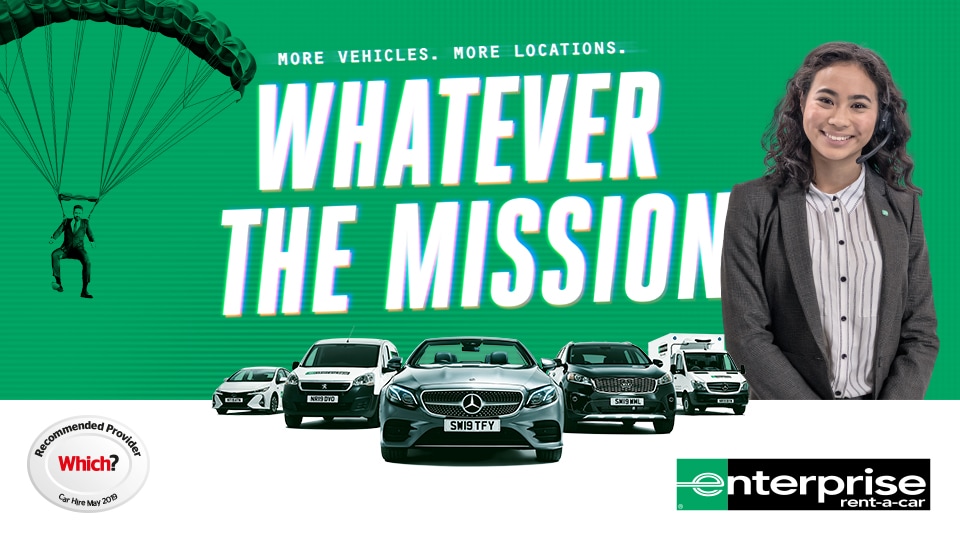 Car Hire in Cardiff with Enterprise
The Welsh capital is a wonderful city getaway. With Europe's biggest waterfront development, beautiful gardens, broad streets and close proximity to some of Wales' most iconic landscapes – it's a perfect place for setting out on day trips into the country when the hustle and bustle gets tiring. After wandering around Bute Park and visiting Cardiff Castle, hire out an Enterprise car and drive into the magical Brecon Beacons National Park.
If you're flying into Cardiff and need a car when you land, you can get help at our Cardiff Airport branch counter. If you find yourself in the city centre, visit the Cardiff City Centre branch on Penarth Road close to Cardiff Central train station. If you're in the east side of the city, you can find us on Ipswich Road at our Cardiff Roath branch or if you're in the west visit us in our Cardiff Leckwith branch on Hadfield Road near Cardiff City Stadium.
Wide Range of Rental Cars
Whatever you have planned for your time in Cardiff, we can help you find a perfect rental car to make the stay more enjoyable. We operate one of the world's biggest hire fleets, meaning we can get you on the road in anything from an economy car rental to a luxury electric car. To make sure your driving experience is as enjoyable as possible, we give you choice in vehicle configurations that you might be used to. You can choose from petrol, diesel or fuel-efficient hybrid powertrains, mated to either manual or automatic transmissions – making you feel at home driving a rental car. All of our cars are Ultra Low Emission Zone (ULEZ) and LEZ compliant, meaning great fuel-efficiency and no worries about places restricted to low emission cars.
We know that sometimes you need a little extra to make the trip go down smoother, so we offer a selection of add-ons for your convenience. Whether you need a child seat or a booster seat, a satnav system or excess protection – you can add it onto your rental agreement for peace of mind.
Van Hire in Cardiff
If you need extra cargo space for your time in Cardiff, our van fleet is ready to help you out with whatever haulage you have planned. Our vans are never older than four years, making it easier to enter low emission zones, getting you the best miles per gallon and make sure you're comfortable in a safe and modern vehicle. Whether you're looking for short wheelbase small vans to transport some boxes, all you have a house-full of furniture to move and need a Luton van rental – our fleet will have a van suited to your needs.
To get the best price on our van rental rates, make use of our pre-pay service by getting a quote above. Pick the vehicle that works best for you and pay for it in advance and save, or pop in to one of our Cardiff branches where one of our agents will help you out.
Cheap Car Hire in Cardiff
Are you looking for cheap car hire in Cardiff? You're in the right place. At Enterprise, we're all about providing the best value for money but without cheaping out on customer service. Thanks to our competitive pricing, high customer satisfaction and clearly laid out rental terms, we're a Which? Recommended Provider. The 20 million happy customers we serve every year return to us, so experience renting with us for yourself and see why they choose Enterprise again. By getting a quote above and booking online, you can make use of the pre-pay service and save on your quote, or have a look at our car fleet to see what vehicles are available for your time in Cardiff.
If you use rental cars a lot during your travels, did you know you could get free rentals by joining our reward program? By signing up for Enterprise Plus  you could be earning redeemable points every time you book with us, which then could be used to book cars for free with us in the future.
Cheap Car Hire in Cardiff Airport
Cardiff Airport lies 12 miles away from the city by the village of Rhoose on the A4226. You can use the road to get to the A4050 and the A4232 that takes you to the area of Leckwith, from which you can easily drive into the city centre. You can find our Cardiff Airport branch in the terminal building. It's perfect for customers on inbound flights who need a car to carry their journey into Cardiff in peace and comfort. Some flights are outside of our normal business hours, so we understand how crucial flexibility is at those times. That's why we offer After Hours Service – the option to return your rental car even if we're not here. All you have to do is inform our agents, then park your car in a designated Enterprise parking spot and leave the keys in the 24-hour key drop box, found outside the office in the car rental village. If you have any questions or are unsure about anything, helpful agents will be able to help you in the branch – seven days a week.
Need to drop off in a different location?
One Way Car Hire
Looking to hire a car for a one-way trip? No problem! Enterprise Rent-A-Car offers easy and convenient one-way car rentals from most of its 10,000 locations in 90+ countries. Choose from a great selection of vehicles, including economy, saloons, SUVs, people carriers and vans.
Need help picking up and returning car?
Free Pick Up and Drop Off Service
Our free pick-up & drop-off service is available at non-airport branches and during normal business hours. To schedule your pick-up time or make additional arrangements, ask for this when your rental branch calls to confirm your reservation.
Need a car for an extended time?
Long Term Car Hire Service
Looking for a flexible alternative to a traditional rental or lease agreement? If so, we've got a programme for you — it's our Month-or-More℠ Plan. We've set up dedicated long-term branches throughout UK to provide our customers one-on-one attention. Just let us know when and where you need to rent a vehicle, and we'll take care of the rest.
Things to do in Cardiff
Stroll down the biggest waterfront development in Europe
Being the ninth biggest city in the UK and the capital of Wales, Cardiff has seen a major redevelopment in the recent decades. The 'bay' as it's locally known, was once a crucial port in the Welsh coal trade, but it's now turned into the biggest waterfront development in Europe and provides entertainment for the city. You can witness the incredible Wales Millennium Centre in all its glory – a building made up entirely of natural materials sourced within Wales. It's an arts centre which also houses a theatre and a selection of food and drink locales. For a peaceful getaway from the hustle and bustle, you don't have to travel far. Park at Havannah Street Car Park and walk down into the Cardiff Wetlands Reserve to stand on The Jetty – a viewing platform in the water where you can birdwatch and see the nearby marina with beautiful yachts.
Discover the history of Cardiff Castle
If you want to explore the town a bit, take a walk down Bute Park and make your way down to the historical Cardiff Castle – a Norman motte and bailey fortress from the 11th century built on top of a third century Roman fort. Follow that up with some drinks at The Bootlegger on Womanby Street to listen to some live jazz or visit the grand Prince of Wales pub, a converted old theatre with interesting décor.
Pack some hiking gear and visit the Brecon Beacons peaks
Cardiff is also a great hub to set out on day trips from, as it's close to iconic Welsh sights and places. A great place to start is a trip to the Brecon Beacons National Park to see the moorlands, woods and mountain peaks. Hire an SUV from one of our branches, capture the picturesque vistas once you've climbed Pen y Fan, and see the Bronze Age burial cairns. If mountains aren't your thing, you should tour down to the Pembrokeshire Coast National Park. Stop off at the harbour town of Tenby to see its colourful waterfront houses and see the ruins of 13th century walls and castle. A short drive from there, you can find Whitesands Bay with its beautiful sandy beach. Whatever you might have planned for your time in Cardiff, it's worth venturing out in the comfort of your Enterprise rental, so get a quote for your stay above to explore this corner of Britain.
---
Tips for Driving in Cardiff
When driving around Cardiff and the surrounding area, there a few key things to remember:
·         In Wales, you drive on the left like in the rest of the UK. Remember to give priority to those coming from the right on junctions and on roundabouts.
·         Cardiff uses standard UK speed limits. Most built-up area roads will have a 30mph limit with some 20mph limit zones. Single and dual carriageways are also aligned with standard national speed limits, unless specified otherwise on road signs.
·         The A4232 junctions at Culverhouse Cross, Leckwith and Atlantic Wharf get busy during peak hours, so plan your journey ahead if you're on a schedule.
·         There is plenty of on-street parking around Cardiff but you can also find designated outdoor and multi-storey car parks, which usually have hourly charges.
·         If you decide to venture out of the city into the countryside, make sure you're aware of animal warning signs and especially sheep near farmland. Reduce speed and use the car's full beams at night, but make sure to turn them off if you see an animal to prevent them from getting dazzled.
·         If you drive into the Brecon Beacons, be mindful of twisty roads and pinhead turns with steep gradients. Take extra caution when exiting turns as it may be slippery and easy for the car to lose traction.
·         In an emergency, dial 999 or 112 on mobiles.
Frequently Asked Questions
For more FAQs, please visit our FAQ page.