Car & Van Hire in Brighton and Hove
Welcome to the Enterprise Brighton and Hove car rental page. Choose from a wide selection of cars ranging from smaller economy cars to larger SUVs and people carriers
Why Hire with Enterprise?
Recommended Provider - Recommended Provider with Which.co.uk

Free pick up - We'll drop you off too
Modern Fleet - Latest models
Excellent Customer Service
Free Cancellation - Free outside of 7 days of pick-up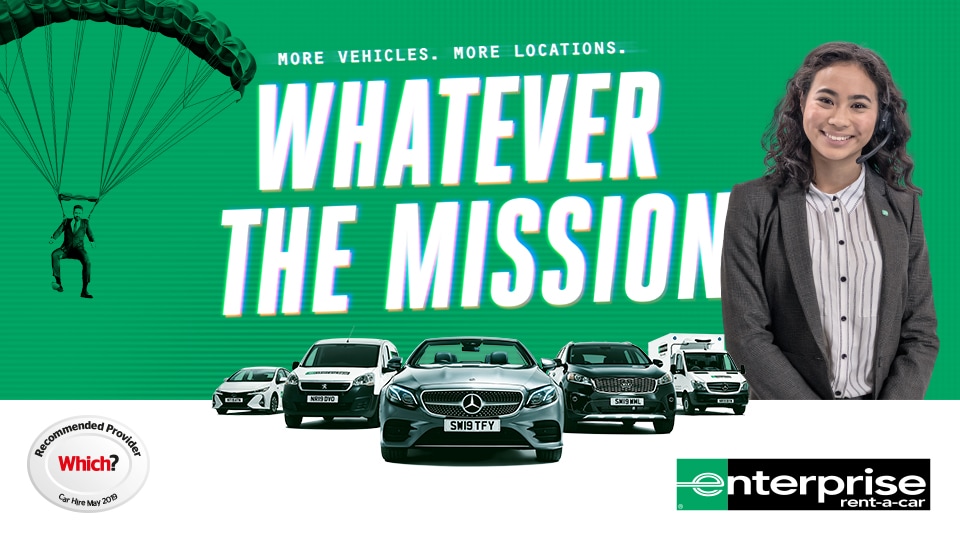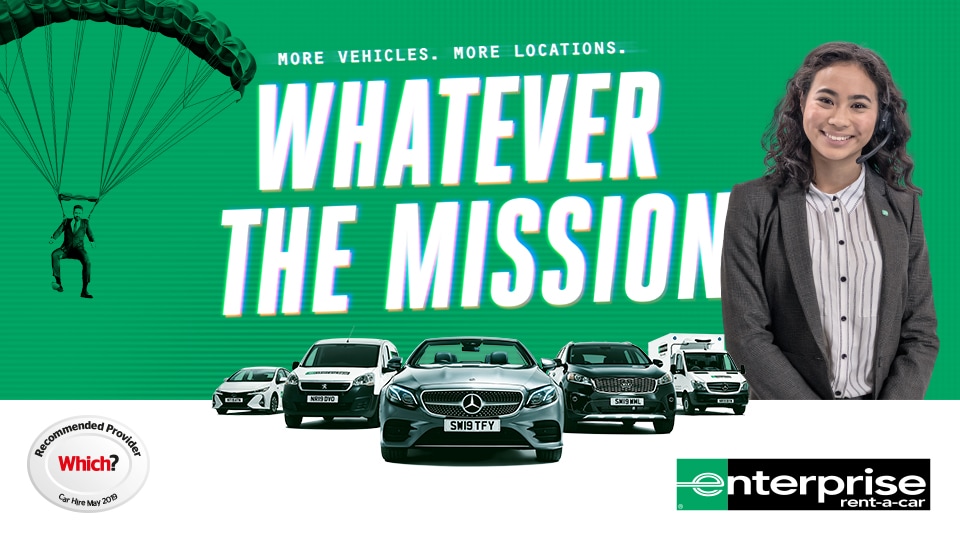 Car Hire & Van Rental in Brighton and Hove with Enterprise
Jokingly referred to as 'London-on-Sea', it's not hard to see why this nickname came about. Brighton might not be as hectic as the capital, but it definitely lives up to the name thanks to its unique atmosphere and beautiful seafront. From the picturesque Brighton Pavilion, to antique shopping in North Laine and arcade fun on Brighton Pier, the coastal gem is an ideal place to visit. You can only make your trip to Brighton better by renting a car to tackle the beautiful cliff-side roads and explore the surrounding region. You can find our Brighton branch behind Brighton train station on New England Street. You can also get a rental car from our Hove branch on Kingsway, close to the beach and opposite the King Alfred Leisure Centre car park.
Wide Range of Rental Cars
We operate one of the world's biggest rental car fleets, meaning we have a wide range of vehicles suited to everyone's needs and preferences. Whether you're looking for convertible luxury car rentals to catch some sea breeze in your hair, or a sports car hire to enjoy carving through turns on cliff-side roads, there is an Enterprise rental waiting for you. We know everyone's driving style and preference is different, so we give you the choice between manuals and automatics, as well as the choice of petrol, diesel and hybrid powertrains. Our fleet features the latest car models, providing great fuel economy and complying with ULEZ and LEZ regulations. Visit our fleet page and discover what's available during your time in Brighton and Hove.
We also provide optional extras to make sure you get the most out of your rental. If you need satnavs, child seats and boosters or adding additional drivers – our agents will be able to help you.
Van Hire in Brighton and Hove
If you need extra cargo space for moving your belongings to your newfound seaside home, or you found antiques that you cannot miss, we also provide van hire in Brighton and Hove. The vehicles in our van fleet are the latest models, providing modern driving experiences and fuel economy. Our vans range from short wheelbase small vans, all the way to the long wheelbase Luton vans when additional cargo space is required. To find the cheapest van rental quote with us, get a quote above to make use of our online Pre-Pay rates and transport whatever you need in Brighton for cheap.
Cheap Car Hire in Brighton and Hove
Seeking cheap car hire in Brighton and Hove? You should get a quote and use the pre-pay service to get the best price. We pride ourselves on how competitive and straightforward our rental prices are, but also our hassle-free customer service. Thanks to this, we are honoured to be a Which? Recommended Provider, meaning we will do our best to attend to your needs and meet your expectations. If this sounds appealing, look at what's available during your trip to Brighton on our car fleet page and join the 20 million happy customers we serve every year.
If you rent cars with us often, or you simply want to get more out renting with us, you should join our rewards programme – Enterprise Plus. Whenever you book with us, you will gain redeemable points for free rentals in the future.
Airport Car Hire Near Brighton and Hove
Even though Brighton and Hove has no local airports, you can get to the beautiful coastal city from London's Gatwick Airport, just under an hour of driving south. You can find our branch near the South Terminal Bus Station on the Lower Forecourt, where you can jump onto the M23 and head down to Pease Pottage, where the road turns into the A23 and carries you directly into Brighton.
Need to drop off in a different location?
One Way Car Hire
Looking to hire a car for a one-way trip? No problem! Enterprise Rent-A-Car offers easy and convenient one-way car rentals from most of its 10,000 locations in 90+ countries. Choose from a great selection of vehicles, including economy, saloons, SUVs, people carriers and vans.
Need help picking up and returning car?
Free Pick Up and Drop Off Service
Our free pick-up & drop-off service is available at non-airport branches and during normal business hours. To schedule your pick-up time or make additional arrangements, ask for this when your rental branch calls to confirm your reservation.
Need a car for an extended time?
Long Term Car Hire Service
Looking for a flexible alternative to a traditional rental or lease agreement? If so, we've got a programme for you — it's our Month-or-More℠ Plan. We've set up dedicated long-term branches throughout UK to provide our customers one-on-one attention. Just let us know when and where you need to rent a vehicle, and we'll take care of the rest.
Things to do in Brighton and Hove
Relax on the shingle beaches
Brighton and Hove is a great place for a beach escape, but it also has a great selection of tourist attractions and plenty of fantastic places you can drive to or through. Many people wonder why the Brighton seafront has a beach made up of pebbles and the answer is quite surprising. It's because the shingle was embedded into the chalk cliffs that have been weathered over the years – causing this 200 mile strip of pebble beached coast, instead of sand that forms when harder rocks grind down. After witnessing this quirk for yourself, walk down the Brighton Pier and have a go on one of the arcade machines or grab a classic meal of fish and chips with vinegar from one of the seafront's eateries. You can see the city from a bird's eye perspective if you get on the British Airways i360 – a glass-enclosed viewing platform that lifts you 162 metres in the air. If you want to sight-see one of the most unique historical buildings in England, the Brighton Pavilion is simply a beautiful but mindboggling palace. It's a former royal residence built in 1787 and it's heavily inspired by Indo-Saracenic architecture, making it look otherworldly when compared to the surrounding buildings.
Drive the length of the famous chalk cliffs
Brighton and Hove is also an ideal place to start a coastal road trip, because the views from cliff-side roads and seeing the blue sea from rolling hills of the South Downs is simply unforgettable. The national park is great for hiking and cycling, but it's also full of quaint historical villages like Alfriston. Take the A259 towards the east and you will be met with a beautiful view of cliffs and the sea for hours. You can take a detour through Beachy Head and visit the Beachy Head Lighthouse and marvel at the size of the chalk cliffs. The road takes you further through Hastings, the location of the famous medieval battle, all the way to the village of Rye where you can stop off and make your way down to Camber Sands beach. It's the widest and longest stretch of sandy beach in the region, with beautiful dunes and a kite surfing centre. No matter what you need during your trip or what kind of car you prefer, an Enterprise rental will take you around Brighton and out of the city to make memories to last a lifetime.
Tips for Driving in Brighton and Hove
When driving around Brighton and Hove, there a few key things to remember:
Brighton and Hove has a 20mph limit on most of its streets, with a few roads retaining the standard national 30mph limit in built-up areas outside the 20 zones. The rest of single and dual carriageways are aligned with standard national speed limits, unless specified otherwise on road signs.
The city centre is filled with surprising gradients on hilly roads and they can be quite tight, so make sure you are confident driving a manual car with a clutch in such conditions.
The A259 is an unforgettable cliff-side driving experience, but within Brighton's boundaries, the road is heavily congested at peak times. If you need to drive out or into Brighton and Hove during those times, use the A27 road instead when possible.
When you drive into the South Downs National Park, be wary of animal warning signs. Reduce your speed when safe to do so and use full-beam headlights to see crossing animals like deer, but make sure to switch them off to prevent dazzling animals on the road.
Some country roads in East Sussex can get very tight, especially in historical villages. Make sure you know the size of your rental car and reduce speed when coming up to other vehicles.
In an emergency, dial 999 or 112 on mobiles.
---
Frequently Asked Questions
For more FAQs, please visit our FAQ page.